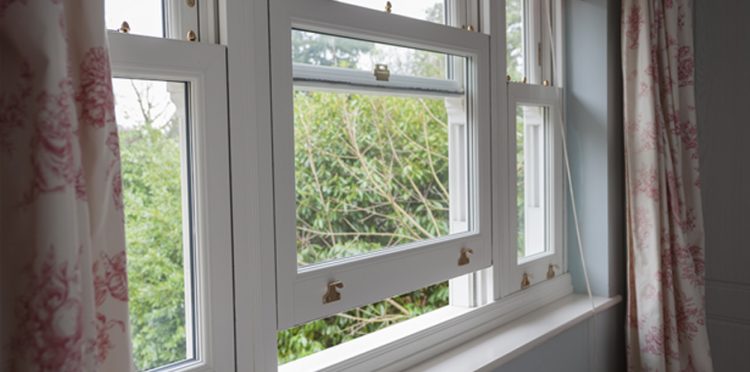 Ventilation
What are the health benefits of sash windows?
You may appreciate how exhilarating it feels to open a window to let in some fresh air if you have ever spent time enclosed in a stuffy setting. 
Good ventilation keeps air circulating and flowing, to create a safe and pleasant environment for your home and family. But maintaining good indoor air quality, eliminating contaminants, humidity, and odors is also vital.
Opening windows can also prevent viruses and other pathogens from spreading. According to Erik Pepper, a professor in the College of Health and Social Sciences at San Francisco State University "One of the major reasons that the flu spikes in the winter are that people congregate indoors. People keep their windows closed to conserve heat and reduce heating costs, but the lack of fresh-air circulation increases the viral density."
"Changing the room air is a widely used measure for infection prevention and control," says Stephen Morse, an infectious disease researcher, and professor of epidemiology at Columbia University's Mailman School of Public Health. "It replaces any virus-contaminated air with clean air." He says that opening windows is one of the easiest and cheapest ways to encourage this type of air turnover.
This has never been more important than during the recent Covid19 pandemic, leading to the government producing this short video, extolling the virtues of clean fresh air to reduce the spread of the virus. 
Sash windows have a distinct advantage, this style of opening makes them the most efficient window, with far greater ventilation than casement style windows. 
By lowering the top sash and raising the bottom sash, warm air escapes from high levels while cool, fresh air is drawn into the room, then dropping to the floor, pushing more air towards the ceiling. When the air rises it accelerates the process drawing more fresh air into the room.
Now that you are most probably spending more time at home than ever before, working or staying in on weekends, it might be the time to invest in some new windows. If the style of your home permits, why not choose sash windows.
Beautiful Bygone Collection sash windows will not only offer all the advantages of a style that has stood the test of time but they are also virtually maintenance-free. Plus, the collection comes with a full 12-year guarantee assuring you of many happy years of superior ventilation.
To view the collection, download our brochure here
Share