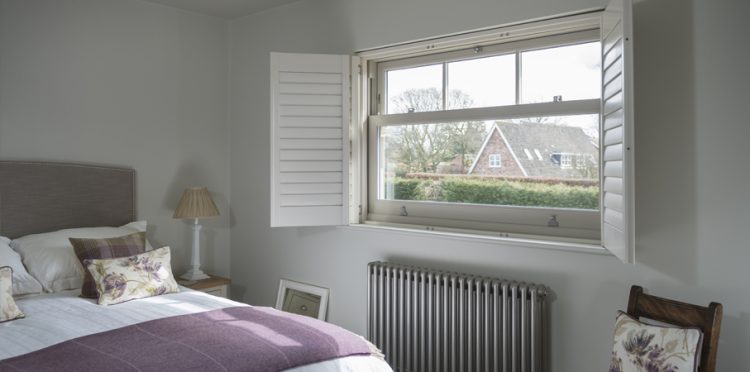 Aesthetics
Why Sash Windows and Shutters Are The Perfect Companions
Sash windows and shutters –  why do they go so well together?
Aside from their excellence and style, sash windows offer an enormous scope of health advantages and are the most ideal decision for proficient ventilation. The ideal accomplices for sash windows are shutters elegant and refined they enable you to control lighting and change levels of privacy easily. 
With many sash windows, such as the Bygone Collection from Masterframe, having accreditation by the Energy Savings Trust, it means they are independently rated as energy-efficient, and with shutters well known for reducing heat gain in the summer and heat loss in the winter, this is a great synergy.
As with sash windows, shutters are a bespoke product coming in a range of colours, finishes, and styles to suit your home.  Whilst the vast majority of times shutters are now an internal feature, originally they would have been found on the outside of windows, to protect the very expensive, thin glass from damage. 
You have the same flexibility with the colour and style for your sash windows so you can choose the right companion windows and shutters for your decor.  Both sash windows and shutters will complement period style homes, contemporary new build settings, or other modern environments.
When considering replacement sash windows it is vital you ask how the installer intends to deal with your shutter. Historic drawings show how shutters fold away to the sides, creating beautifully panelled reveals. Most good installers with work to retain shutters if you ask them too, retaining the charm and character of your home.
Most sash windows are very easy to operate and come with a handy tilt facility for easy cleaning and with shutters simple to adjust and clean you're guaranteed low maintenance, requiring only light routine cleaning to keep them looking at their best.
Whilst guarantees on shutters vary with market leaders offering 5 years, some sash window manufacturers, such as Masterframe's Bygone Collection, have a full 12-year guarantee. As the most generous in the industry with quality to match it's important to review the options before making your investment.
For some inspiration and to read about all your sash window choices, download the Bygone Collection Brochure here.
Share