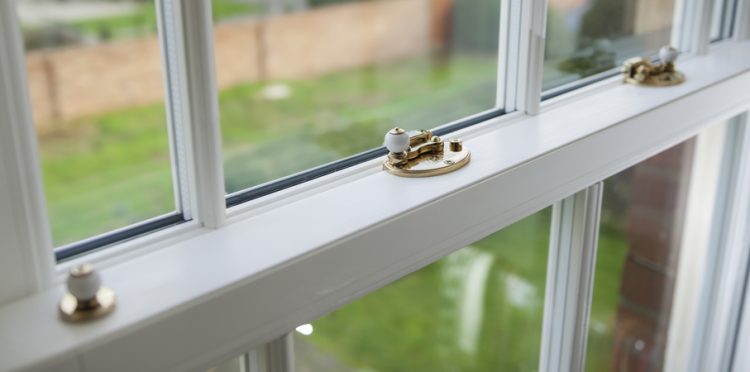 Conservation
Can you replicate original sash windows in PVC?
As the definition of replicate is to be identical in every aspect, the short answer is no, because it's a different material. If however, the question is, "Can you make a PVCU sash window look virtually identical?" then yes.
Whilst anyone would spot unsympathetic replacement windows, and cheap imitations, good quality reproductions are more difficult to spot, indeed, the most critical eye will struggle to tell the difference between a premier sash window Bygone Symphony and a timber original.
Attention to detail is critical.
Unlike shiny plastic frames, look for wood foiled finishes, don't accept mitred joints insist on Timberweld butt-jointed corners, look for products with staff bead in the frame section and deep glazing beads, which recreate the impression of single glazing.
Look for products which have replaced PVC in favour of GRP, fibreglass, as it's far stronger and produces slender meeting rail at just 39mm.
On frames look for a traditional box cill, again in foiled GRP and ask how frames are coupled, most PVC sash windows join two frame sections making the sightlines bulky. Instead, look for integral mullions, these reduce the sightlines from 156mm to just 99mm the same as wooden windows.
16 years ago, an inspector from the Office of the Deputy Prime Minister was required to decide if a council's objections to a PVC window was reasonable.
The inspector stated that "This window appears to replicate a traditional sliding sash window very closely. The effect is so convincing that it is difficult to differentiate between the two, even at close quarters." They added, "Unlike many other PVCu imitations which only pay superficial attention to traditional detailing, the mouldings on the frame of the unit, which also extend to the central glazing bars, appear most authentic" and that the Bygone windows would actually, "preserve or enhance the conservation area".
Far from being cheap alternatives, real sash windows exist with beautiful detailing, great energy
Share